Disc golf is a flying disc sport in which players throw a disc at a target; it is played using rules similar to golf. It is usually played on a course with 9 or 18 holes. Players complete a hole by throwing a disc from a tee area toward a target, throwing again from where the previous throw landed, until the target is reached. Usually, the number of throws a player uses to reach each target is tallied (often in relation to par), and players seek to complete each hole in the lowest number of total throws.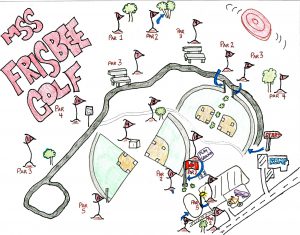 Frisbee Golf in Merritt? Free?
You bet. Simply get yourself to the starting location (map below) and see the instructions in this document. Happy (frisbee) golfing!